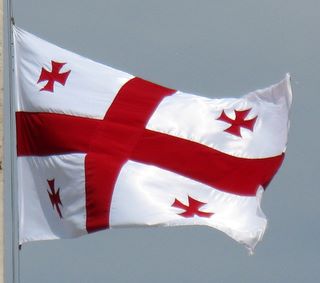 This post I want to open a small series of publications about my trip to Georgia, I ean country in Caucasus region. On business, I've been here four weeks, most of the time was busy working, so to explore the interesting things were only off by week end. It turned out to do and the two-day excursions with overnight stays in a hostel or tent :) Got a lot of impressions that and want to share, as well as the practical side of things, and pictures.
July - August 2011
I was able to visit several parts of Georgia, I decided to share everything in a few posts:
The place of my work was Tbilisi, the capital of Georgia. The city located at an altitude of 700-800 meters above sea level in mountainous terrain. Through the city flows the Kura River, forming a picturesque landscape.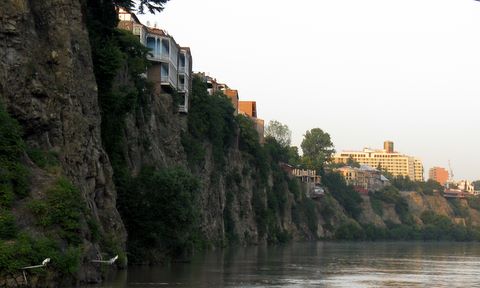 This is my 3 visits to Georgia and amaze the eyes of the city is changing for the better. The first thing that catches your eye, the whole city center is lit, all the buildings and shops with lights, TV tower sparkles with lights. Private business is growing by leaps and bounds, passing 200 meters from the bus stop to home, I counted about 20 shops.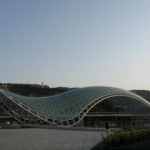 On the contrary residence broke new park with the singing fountain and built a new pedestrian bridge - Bridge of Peace. Overseas miracle - creates a wall of fine spray of water, which is projected video is impressive.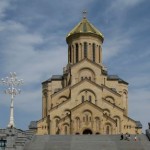 The majority of believers belong to ethnic Georgians, the Georgian Orthodox Church. Religion occupies a large part in the lives of Georgians, this evidence of a large number of temples, ancient and newly built. All are landmarks, men should be in the pants.
The city center is very neat and tidy, nice to walk around Rustaveli Square to freedom, is something to see. Met a lot of tourists, mostly from Europe - cauchserfs, bikers, biking.
The position of the city is such that it is convenient to use as a base for hikes, most places can be visited for 1-2 days, except perhaps Svaneti. Many places can be visited independently, but in some mountain areas is not easy to get, easier to buy a round. Where do see ads.
All Tbilisi photos are in my Picasa album
# Transport in Tbilisi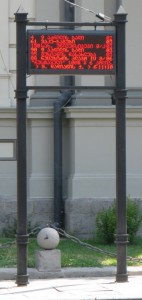 Very well-developed bus. At each stop hanging placards with the arrival time of each route numbers. Travel costs 50 tetri machine located at each bus takes the coin 10,20,50, and prints the ticket. You can save money if you use a card out of the subway, then on the second day of a trip will cost 30, while the third and then a total of 20 Tetri.
The routes of all buses can be found here:
http://biz.aris.ge/ge/transport/bus/
Map to the streets looking for:
http://map.ge/index.php?cid=9#top
For longer trips, there are subway costs 50 tetri.
# Transport in Georgia
The main long-distance transport is the "marshrutka". Go as far as filling the biggest chance to go somewhere this morning, late afternoon is always necessary to know when the last flight and not the fact that it will be. The most inexpensive form of transport.
At the direction of departure is different from different angles. Didube Metro station, bus dispatched to the north and west to Mtskheta, Kazbegi, Batumi, and so on. Metro Station Samgori, in the south and east - for example in Kakheti (Telavi, Sighnaghi).
If you travel to Batumi, it is best to train.
# Internet
I bought a sim card from MAGTI, Service to 5Gb of traffic a month, just for 42 GEL. Covering 3G, in all the cities where I've been working steadily, the rate for the mobile Internet a normal, came to 150 kb / s.
It was convenient to use OpenStreetMap (OsmAnd) on my android, map traced in detail, there is a POI.
# AD
Tour to Khevsureti I bought from
www.sunnytour.ge Тел +995 551 315550.
The tour agency, just found their coordinates in the announcement on the post:
SkyHostel (10EUR) +995 577 71 65 75 +995 558 10 84 85, +995 577 41 09 11
---