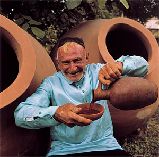 Kakheti, the area in eastern Georgia, for centuries known around the world for its wines, varieties of which there are about seventy. The history of winemaking in Kakheti begins in III-II centuries BC The heart of this generous region - Alazani Valley.
Feature of the technology Kakheti wine type: grape must fermentation occurs in kvevri, the size of which can be truly gigantic, see picture.
After reading the stories of other travelers about this magical region and prikinuv amount of free time, targeted a next route. Arrive in Telavi, Alaverdi Cathedral posetitit, Tsinandali estate, in the evening to visit Sighnaghi, look around, perenovechat and two days to go round a few neighborhoods. In the evening return to Tbilisi.
The plan is approved, letsgo.
On Saturday, early in the morning got on the subway and went to the metro station samgori. At 200 meters from the exit of a bus station, the bus goes from here in Kakheti (Sighnaghi, Telavi, etc.). I select the first item Telavi, as the most remote city to come back seemed easier.
The trip takes 2 hours, mostly hilly landscapes, many vineyards, villages and all that can be seen on the road is very similar to the same as we have in Moldova, recalled home. So I'm in Telavi.
# Telavi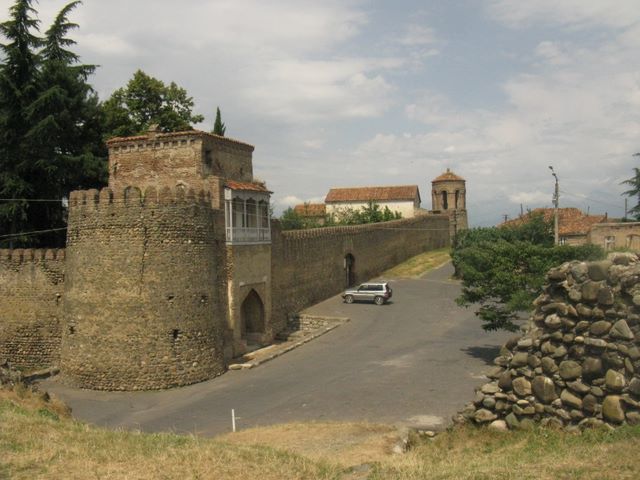 Telavi, Georgia's oldest city known since I century BC. e., is at the Alazani Valley. Distance to Tbilisi only 70 kilometers, but the road is heavily toured the ridge and get all 130.
A very small town, population - 20 thousand inhabitants (2009).
From what should be examined is the strength of one of the last kings of Georgia Irakli III. Walk about 200 meters from the bus station.
Even be mentioned heliport present in the film "Mimino", or the moment when Telavi confused with Tel-Aviv.
More in the city had nothing to watch and a little wandering on the streets, went to Alaverdi. Minibuses run every 20 minutes there and back, straight from the bus station.
# Alaverdi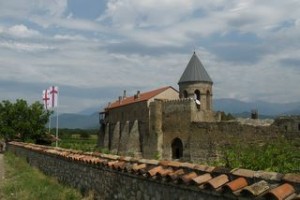 Alaverdi temple, impressive and quite beautiful, even going restoration. Entrance is free. Inside, everything is very ancient.
# Tsinandali
Tsinandali but famous wine has another attraction - a museum Chavchavadze. Said to be very well-kept estate, located in a nice and neat park. But I did not get here, but twice passed by: (left pad to transport, it was 13 hours of the day when I learned that the minibuses Telvai-Sighnaghi no more. Had to postpone everything and get to the Sighnaghi quickly. Get a small journey, 1 - th minibus Telavi Gurjaani second to Tsnori, then had brother b 5 cab lari. case was to 5pm.
# Sighnaghi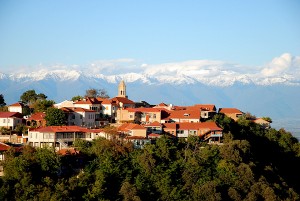 Beautiful tourist town, overlooking the valley Alazani, revealing great views.
In Sighnaghi obviously invested a lot of effort and money in recent years. As a result, he became like small towns Mediterranean coast of Europe. In the city you can see well-preserved ramparts some incredible lengths to take a look at some interesting monuments and go to the museum.
The tourist center of Sighnaghi offers good tourist maps of all regions of Georgia. Also get to tour in Kakheti remote areas, such as the cave monastery David Gorecha. There I was able to visit another in 2008.
Upon arrival, quickly found a guesthouse, the hosts as well as everywhere in Georgia, very hospitable.
# Back home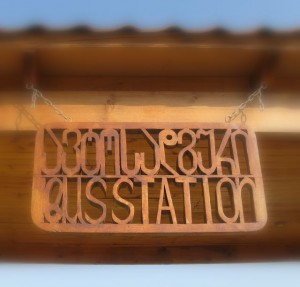 Frankly, this morning I did not feel strong enough to continue the tour. Nakata longing for home and family and the first shuttle went back to Tbilisi secretly hoping to get home quickly.
This is my last weekend outing in Georgia, on the evening of the same day I flew home.
Total I was in Georgia one month.
# Photos
As usual a lot of pictures, and all good. My heart bleeds when you have to choose only 30-40 photos out of 200.
# Contacts
Guesthouse +995 595 33 83 51, Lado
Guesthouse +995 599 38 20 58 Timur, or  officially Robizon Durglishvilli, 15 lari / night
A schematic map of the Kakheti region, made a traveler, can help plan the route.
# Travel to Georgia
---